I've been teaching French for years and with my experience, I hear mainly the same stories.
Apart from students with specific goals like French exams (DELF B2, TEF Canada) or professional purpose (French for Business, Tourism and Hotel Management) , French learners face the same problem. Students contact me saying they have a background in French but struggle to put things together. Some of them seem to have tried all available French methods in the world without having success in learning French. Some want to focus on conversation, some on grammar. But most of them have the same problem.
Confidence is the #1 thing the students ask me about. As I said in an article about how to swear in French, we need to talk in order to become confident, and not wait for the opposite. There's a bit of "fake it until you make it", because language is acting. The cone of learning developed by Edgar Dale is explicit: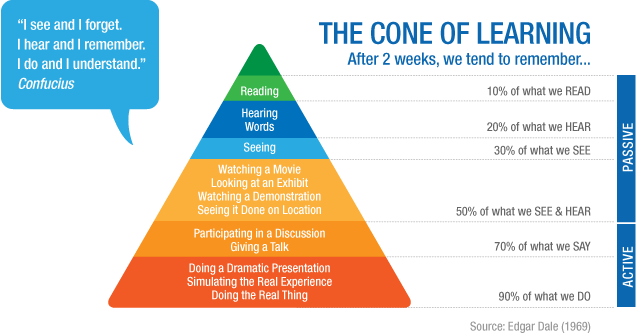 We tend to remember 90% of what we SAY and what we DO, but only 10% of what we read, and 30% of what we see. It means whatever you use as a method, learning is about acting. It's not because you memorize the grammar perfectly (Asian do it very well!), that you will make yourself understood and even less that you will understand spoken French. Reading and memorizing is just to compensate the fear of acting, and unfortunately, it's less efficient.
As grown-ups, we think we know the appropriate behavior and we only need to use our brain. Wrong. Like said Confucius, "I see and I forget, I hear and I remember, I do and I understand". We have to use our entire body to learn, starting from the mouth.
Finally, I've been told once that "teaching is learning twice". It's so true, not only you act, but you need to think deeply how to explain and share the knowledge. That's one of the most powerful ways to learn: teach.